Entries Opening Soon
2018 Novice/Ranch Trial
Sunday, August 19, 2018
Kansasville, WI
Judge: Robin Reasoner
2 Runs of Ranch, 2 Runs of Novice
Past Winners
2017 (Jennifer Boznos, Judge)
Ranch 1 – Lisa Williams & Ali
Ranch 2 – Laura Tomasezwski & Jake
Best Ranch Team – Lisa Williams & Ali
Novice 1 – Cheryl Christensen & Grit
Novice 2 – Cheryl Christensen & Grit
Best Novice Team – Cheryl Christensen & Grit
Highest Combined Score for Laughing Frog Farm & Counting Ewe Farm
Ranch – Jerry Zappa & Mirk
Novice – Cheryl Christensen & Grit
2016 (Steve Kunkel, Judge)
Novice 1 – Lisa Pruka & Chandler
Novice 2 – Kelly Beres & Brim
Novice High Combined: Kelly Beres & Brim
Best Stockmanship Novice: Dorothy Schmidt & Thyme
Ranch 1 – Kristin Bryant & Bea
Ranch 2 – Jody Anderson & Whisper
Ranch High Combined: Jody Anderson & Whisper
Best Stockmanship Ranch: Lynn Crowell & Krea
2015 (Lori Perry, Judge)
Novice – Lynn Crowell & Krea
Ranch – Meredith Biehl & Suka
2014 (John Seraphine, Judge)
Novice – Lisa Williams & Ali
Ranch – Mary Dickey & Nell
2013 (Nancy Flynn, Judge)
Novice – Janis Reuter & Bryn
Ranch  – Catherine Price & Morgan
2012 (Kathy Kawalec, Judge)
Novice  – Adrian Espinosa & Drake
Ranch – Cheryl Leatherman & Ricky
---
+++++++++++++++++++++++++++++++++++++
Check out the photos at: EarthSpeak Media
+++++++++++++++++++++++++++++++++++++
Recap of 2016 Trial: Sunday, August 21st, 2016
Novice/Ranch Sheep Dog Trial
Judge: Steve Kunkel
Don and want to thank you all of the handlers that entered and supported our trial.   It is our 5th year hosting this trial and we are so grateful to the sheepdog community for supporting us for the past 5 years.  This year the weather Gods were pleased and blessed us with spectacular dog working weather.  Who would have thought we'd be wearing jackets in August!?!?  The sheep were really good sports – for most of the runs 🙂  We are so lucky to have a good, healthy source of sheep in our area.
Don and I really enjoyed having everyone at our farm.  Each handler/dog team has done a lot of work leading up to the trial and it was lovely to see it paying off when they passed through the gate and took the post. A special congratulations to first time trialers:  Jennifer Fleck & Cap and Kelley Beres & Brim.
A big thank you to our awesome judge, Steve Kunkel.  He was very focused for each and every run and invested in providing good feedback.  If you were among the lucky that got to see him run the course with his dog Coon at the end, WOW what a treat.  Just spectacular!  Thank you Steve for time and for the great Stockmanship prizes.
Thank You to Victoria Kreiter for being our Course Director this year.  She also came over to help set the course and put up draping etc. She took the CD reins easily and kept the trial moving smoothly all day. It really helped me so I could focus on all the other details.  Thank you Vicky!
A HUGE thank you to Nancy Flynn. She leaves her farm in Valparaiso Indiana to help set up the farm, organize the sheep and set out each and every run.  Plus, she always provides us with her witty humor and keeps us "laughing" through it all.  Thank you Nancy!
Thank you to those who volunteered. We may have had it covered but thank you for offering.  Thanks to Lynn Crowell, Kristin Bryant and Catherine Price. They chipped in when needed and Catherine came for the day to help scribe, prepare some food and generally keep things running from behind the scenes.  Thank you!
Congratulations on all the teams that placed. If you are members of the Wisconsin Working Stock Dog Association, you'll get club points for your placements.
2016 Winners
Novice 1 – Lisa Pruka & Chandler
Novice 2 – Kelly Beres & Brim
Novice High Combined: Kelly Beres & Brim
Best Stockmanship Novice: Dorothy Schmidt & Thyme
Ranch 1 – Kristin Bryant & Bea
Ranch 2 – Jody Anderson & Whisper
Ranch High Combined: Jody Anderson & Whisper
Best Stockmanship Ranch: Lynn Crowell & Krea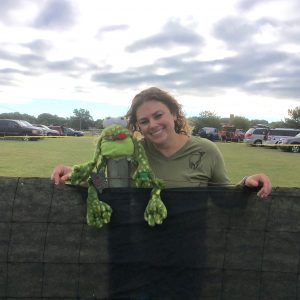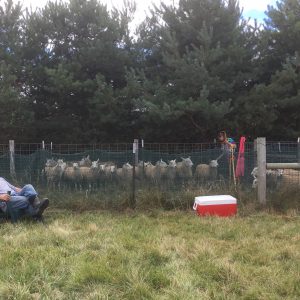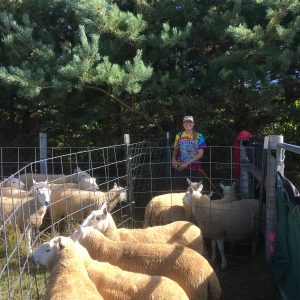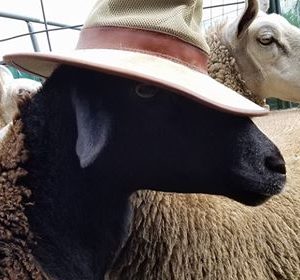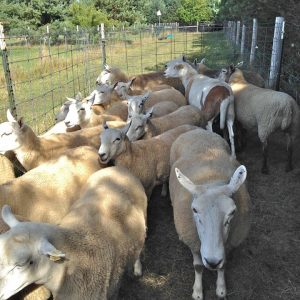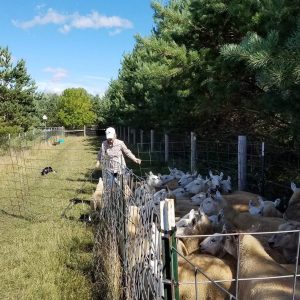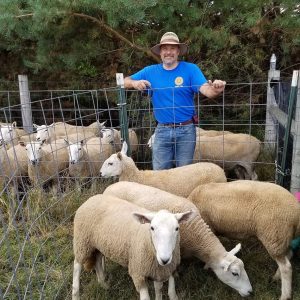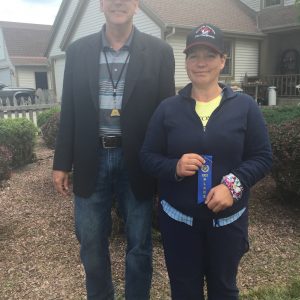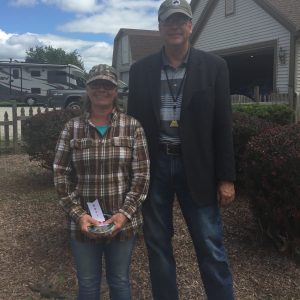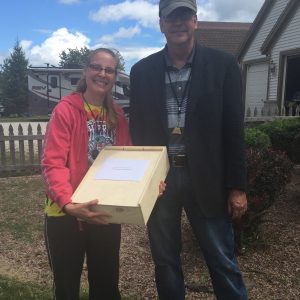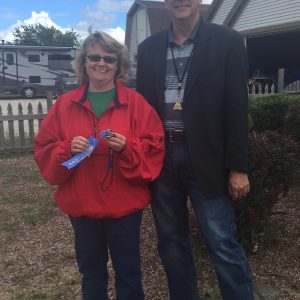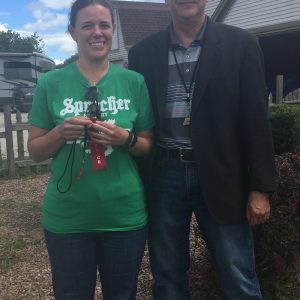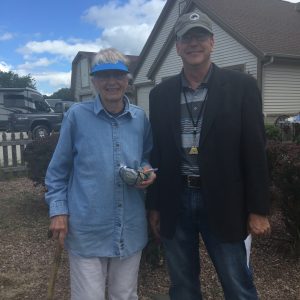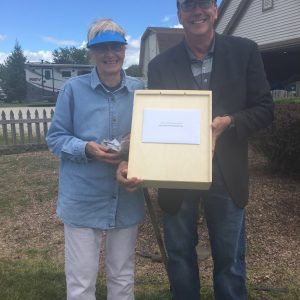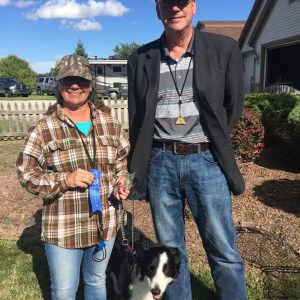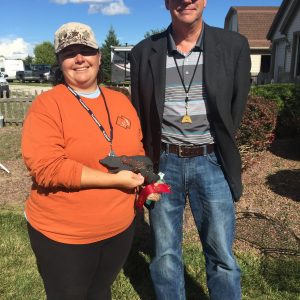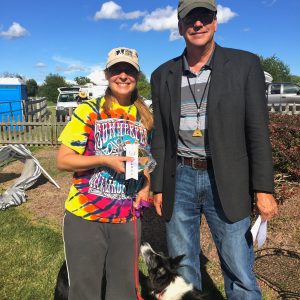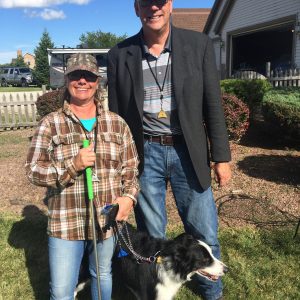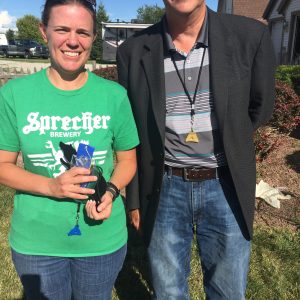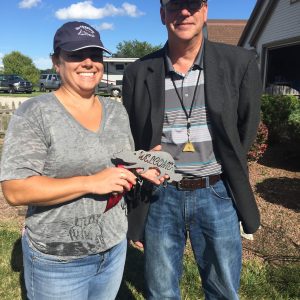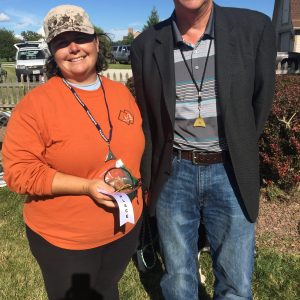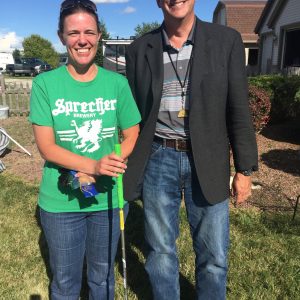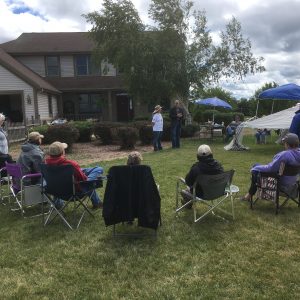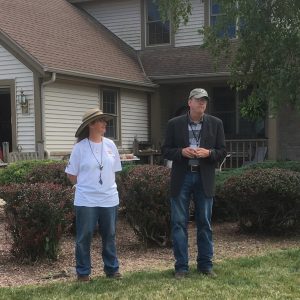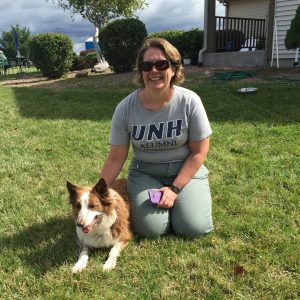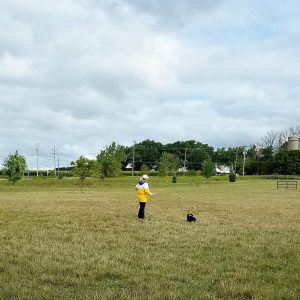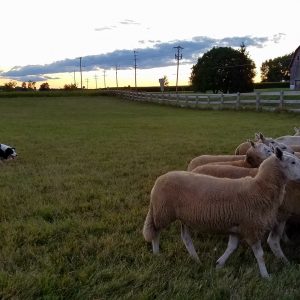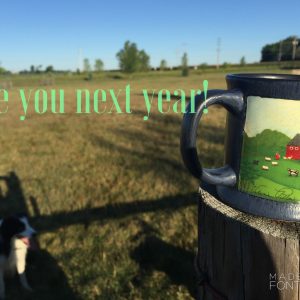 Past Winners
2016 (Steve Kunkel, Judge)
Novice 1 – Lisa Pruka & Chandler
Novice 2 – Kelly Beres & Brim
Novice High Combined: Kelly Beres & Brim
Best Stockmanship Novice: Dorothy Schmidt & Thyme
Ranch 1 – Kristin Bryant & Bea
Ranch 2 – Jody Anderson & Whisper
Ranch High Combined: Jody Anderson & Whisper
Best Stockmanship Ranch: Lynn Crowell & Krea
2015 (Lori Perry, Judge)
Novice – Lynn Crowell & Krea
Ranch – Meredith Biehl & Suka
2014 (John Seraphine, Judge)
Novice – Lisa Williams & Ali
Ranch – Mary Dickey & Nell
2013 (Nancy Flynn, Judge)
Novice – Janis Reuter & Bryn
Ranch  – Catherine Price & Morgan
2012 (Kathy Kawalec, Judge)
Novice  – Adrian Espinosa & Drake
Ranch – Cheryl Leatherman & Ricky
---
Recap of 2015 Trial
Sunday, June 21st, 2015
Novice/Ranch Sheep Dog Trial
Judge: Lori Perry
Our fourth trial has come and gone and this year seemed like the best yet!  Due to our busy schedule, we moved the trial much earlier putting it in June. While the weather was on our side, the business of June meant a bit fewer entries.  With that, we were able to accept some day-of entries and we lifted the restrictions on the classes.  It worked out great!  

Our judge, Lori Perry drove down from the UP and did a great job of judging the runs and providing some very helpful comments afterwards.  She spend time with each handler after their run so the information would be fresh in our minds.  The rented flock of sheep were lovely and cooperated for all the runs, well maybe not so much for the pen, but it gave us all a chance to work at our penning skills with some of us being successful!
To keep the handlers focused on their individual set of sheep, we awarded the handlers with a chocolate bar if you got one of the two "chocolate" sheep of the flock.  We affectionately called it the "Black Sheep Squadron."  Additionally, those yummy chocolate bars went to handlers brave enough to whistle during their run.
A special thanks to all the handlers who entered and were brave enough to walk to the post. Sometimes, that is such an amazing feat all by itself. Thank you to Lori Perry for judging, to Nancy Flynn for working in the pens (along with my husband, Don) and setting all the sheep for the runs.  A big thank you to Diana Antlitz for handling the Course Director job so well.  Thanks to Susan Weber for coming up to help at the trial. She didn't even run her dog but she hopes to be on the running order next year!  Thank you to Candice Sandberg for help in set up/tear down and for scribing. Thank you to Trisha McConnell for scribing and providing us with lots of laughter.  Also thank you to Lynn Crowell for helping in the pens so Don could have a break.  Lastly, thank you to all the handlers for bringing some of the most delicious dishes for the pot-luck lunch.  Boy was that some good eats!
Thank you Trisha for writing such a lovely recap of our trial.  To read it, click here.
Congratulations to Meredith Biehl and Suka for winning first place in Ranch and to Lynn Crowell and Krea for winning first place in Novice. Wonderful work from everyone and you can see the complete list of scores by clicking here.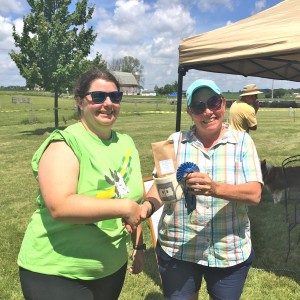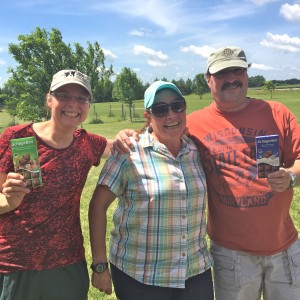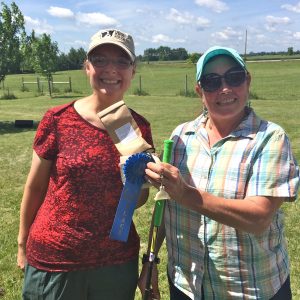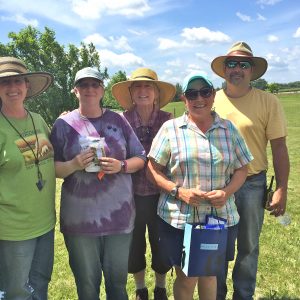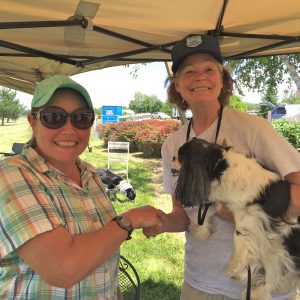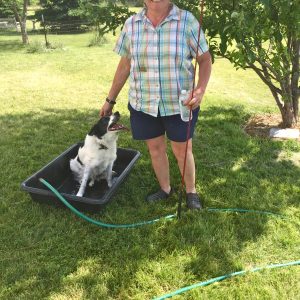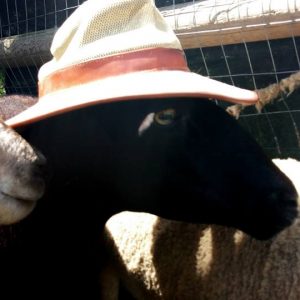 Recap of 2014 Trial – Saturday, August 23rd
The 2014 Laughing Frog Farm Sheep Dog Trial is over and we really lucked out with the weather.  At the beginning of the week, predictions were temperatures in the upper 80's and high humidity.  As the week went, the predictions fluctuated wildly.  We ended up with a pleasant day of moderate humidity but comfortable temperatures. The sheep were nice and gave the dogs some good opportunities to show their talents.  Only a few wanted to go in the pen, but most thought that was a very bad idea. The dogs and handlers kept their cool and the "teams" really worked well together.  John Seraphine did a great job of judging the runs and sharing his helpful comments. I always enjoy hearing about his experiences from the many international handlers he is in contact with. A special thanks to John for donating the DVD's for the first place prizes in the two classes.
Thanks to Nancy Flynn for helping with the set up, sheep handling and setting out of the sheep for every run.  Her help was much appreciated.
Congratulations to Mary Dickey and Nell for earning first place in Ranch and to Lisa Williams and Ali for taking first in the Novice class. To see the complete listing of scores, you can click here, 2014 Laughing Frog Farm Trial Scores.
We had a special treat when photographer,  John Wagner of Road Runner Images stopped by and took some great photos of the trial.  As he is editing them, he's adding more, but check out this link to see the photos from the trial.  There are some really great shots of working dogs. Thanks John!
A ton thanks to everyone who pitched in and helped, for all who brought food and snacks and for every one who helped set up and take down.  Hosting the event is a fair bit of work, but much more pleasant when everyone pitches in.  Don and I thank you all very much for that and for coming to the trial in the first place. We enjoy sharing our farm with everyone and really delight in seeing dogs and handlers working together and having a good time.  We will post the 2015 date on this page and hope to see you there.  Enjoy some of the photos from the weekend posted below.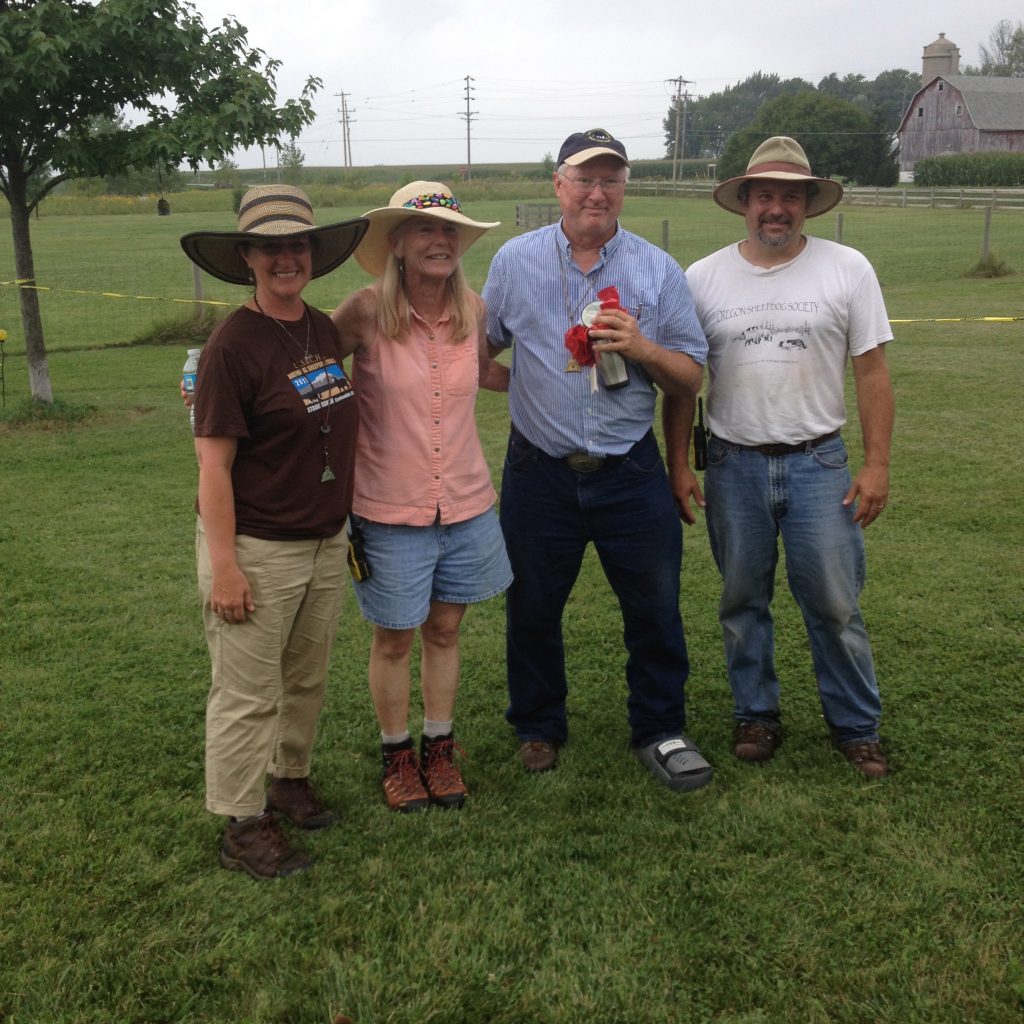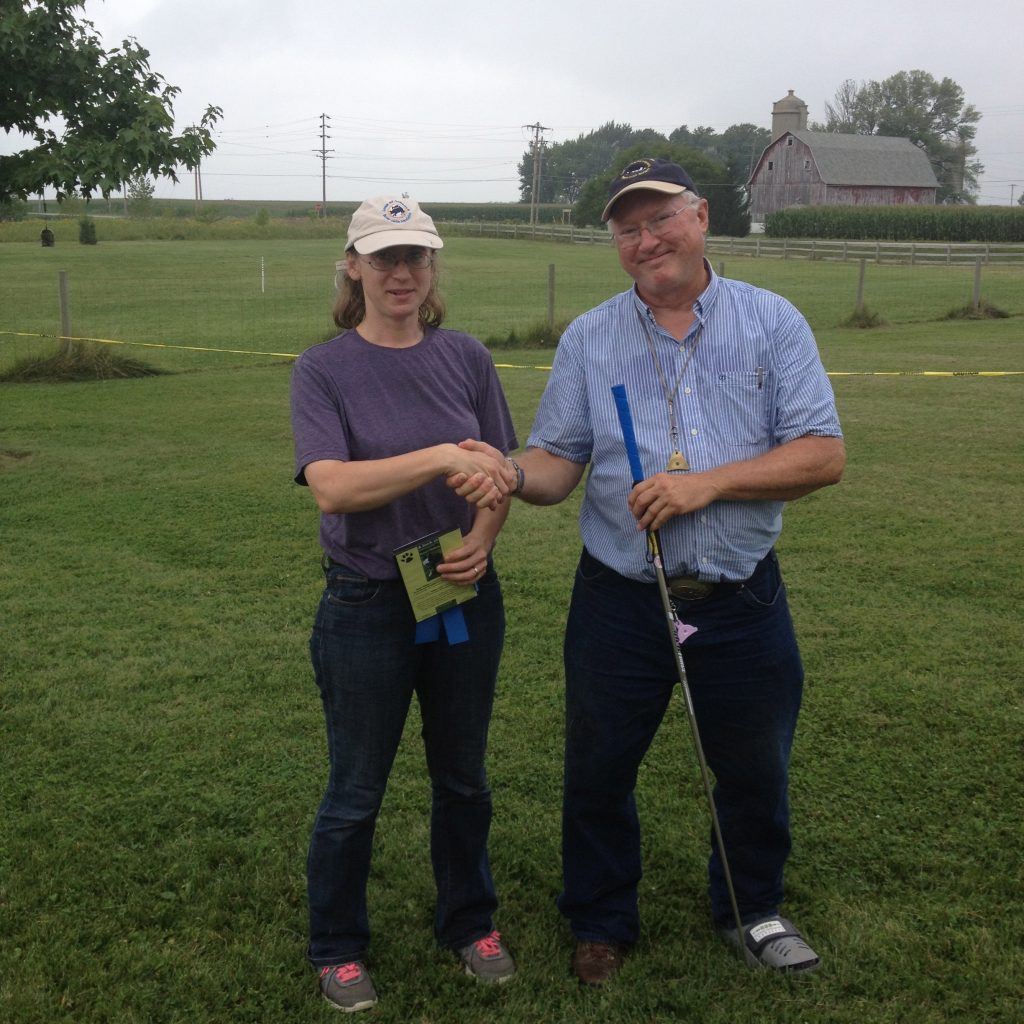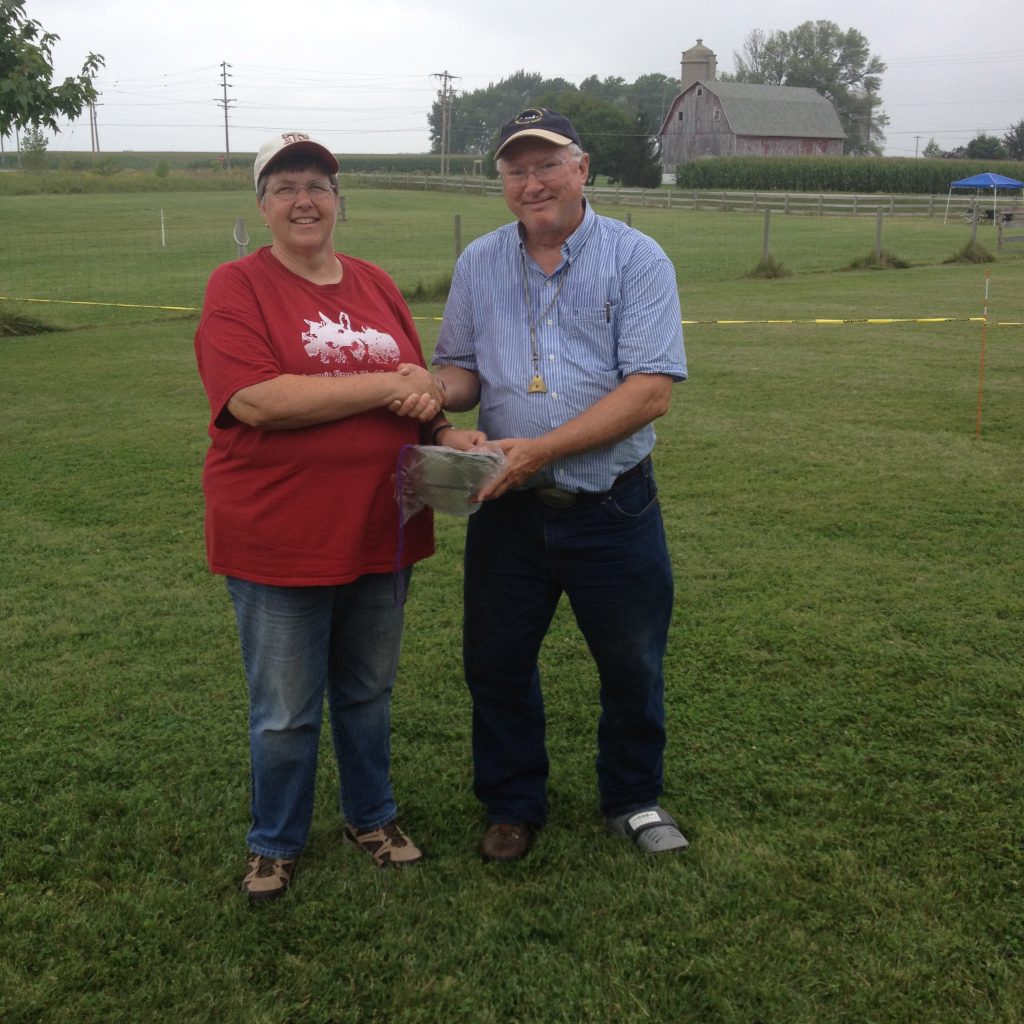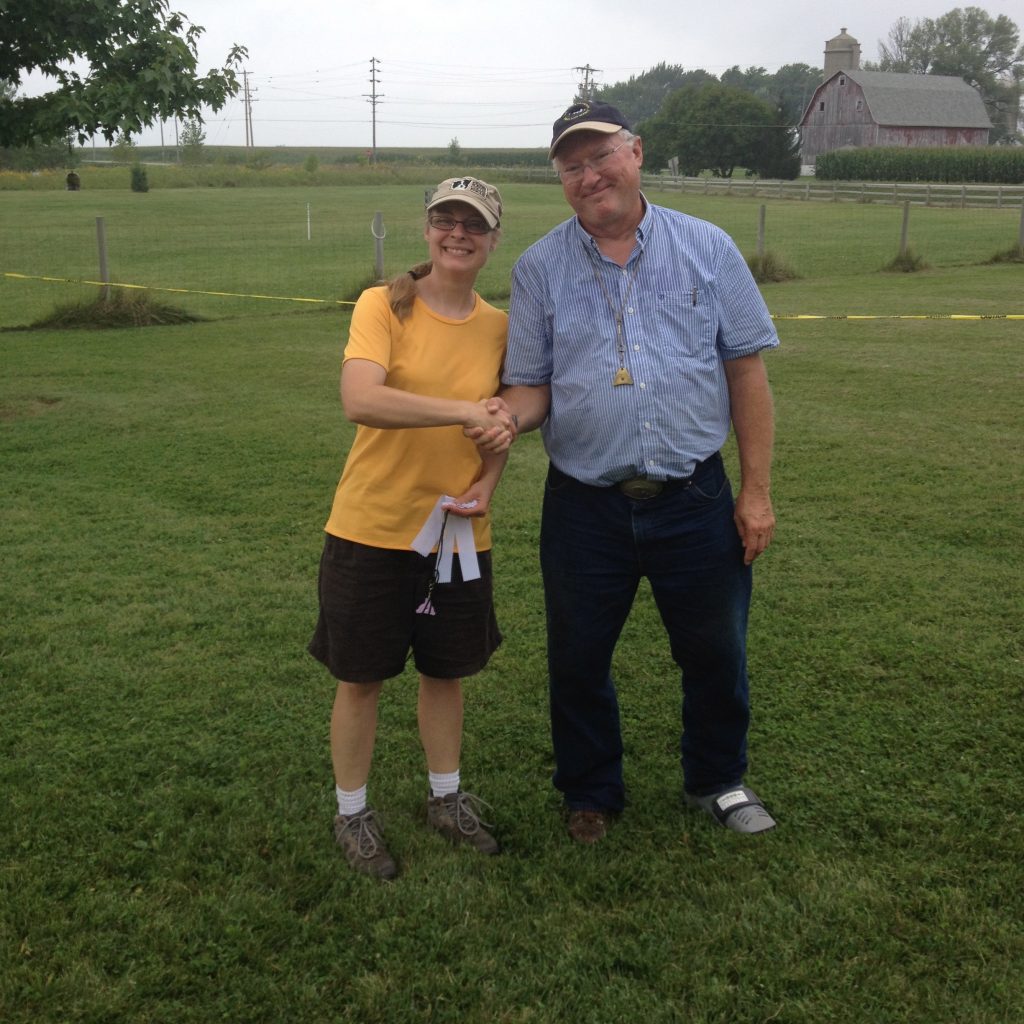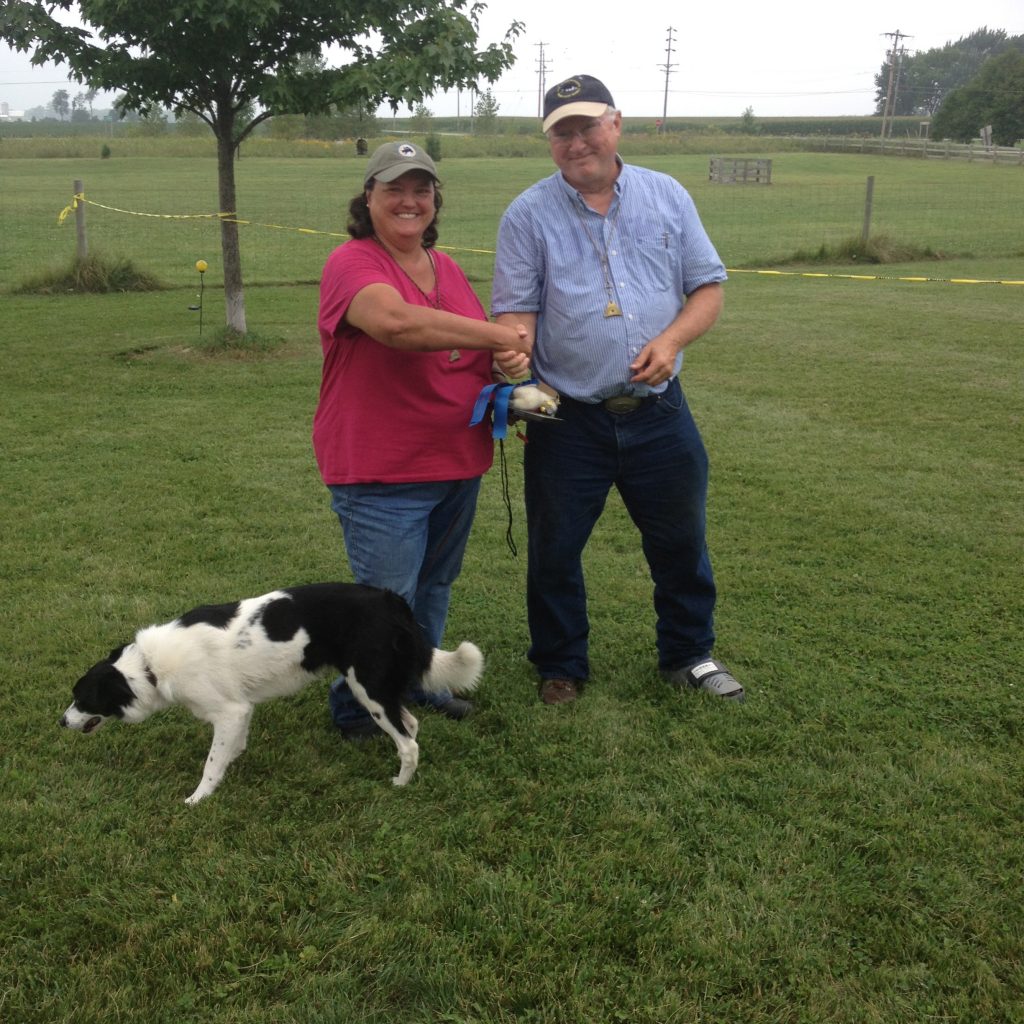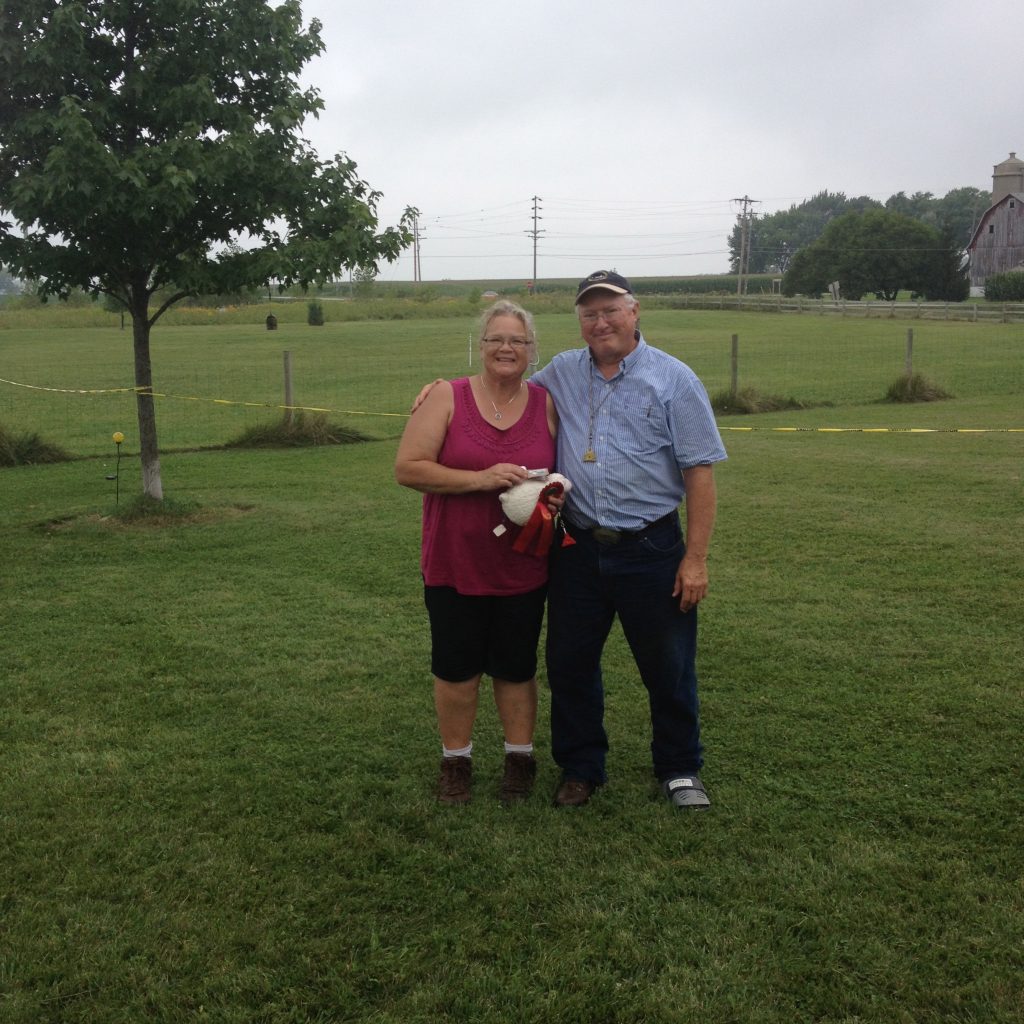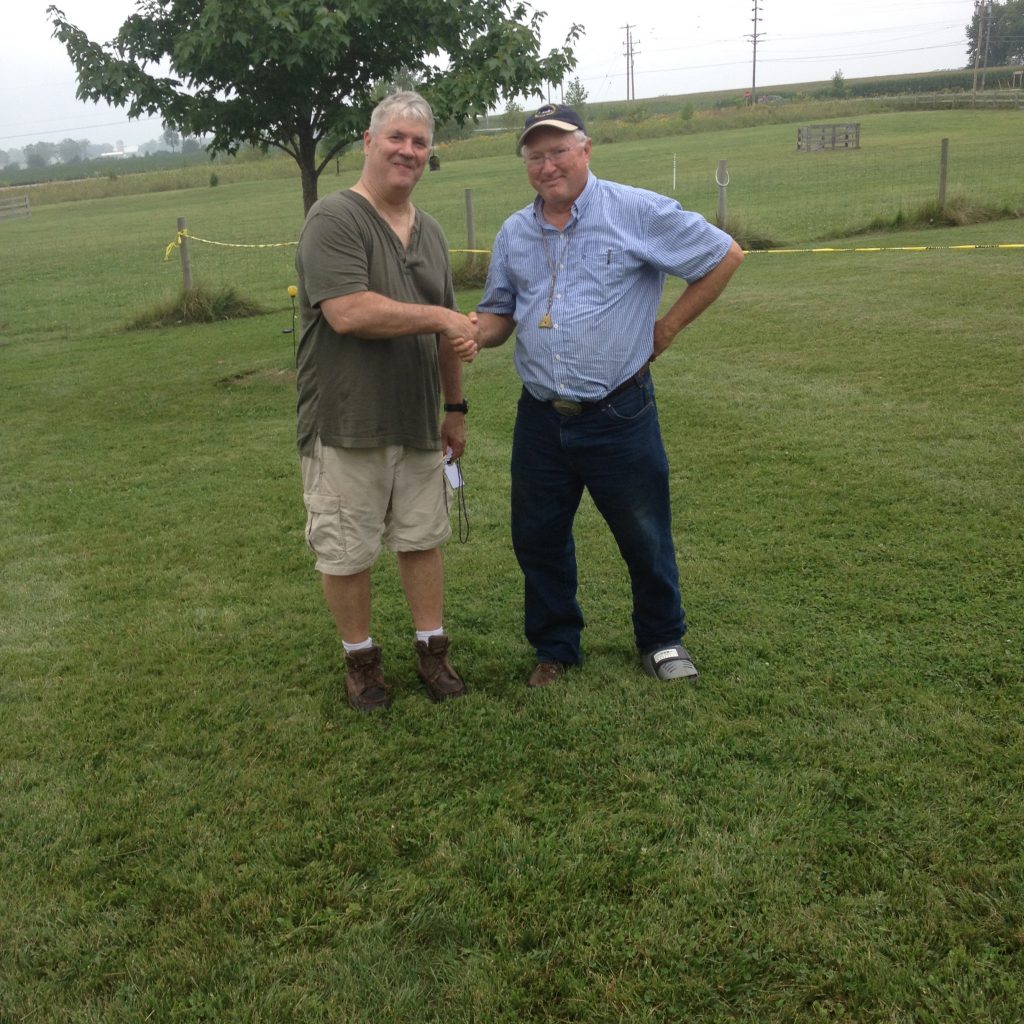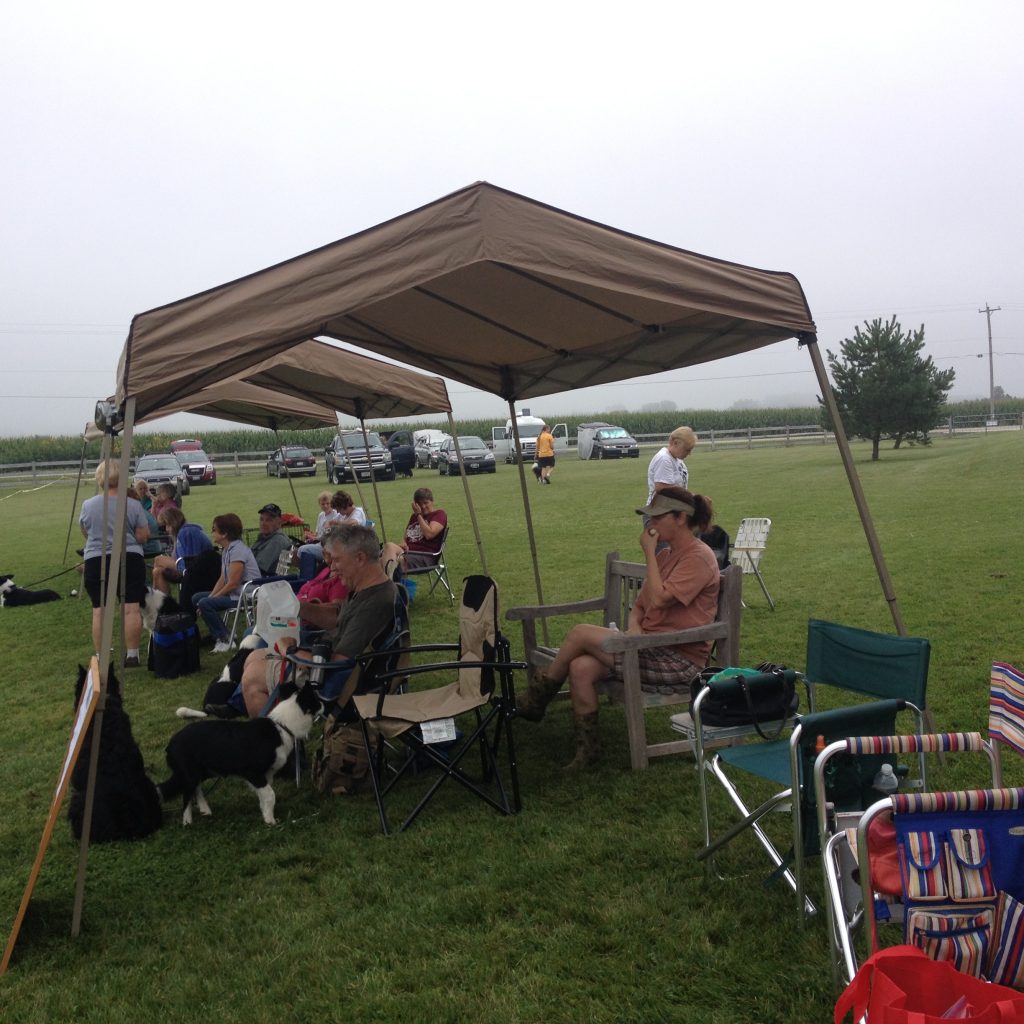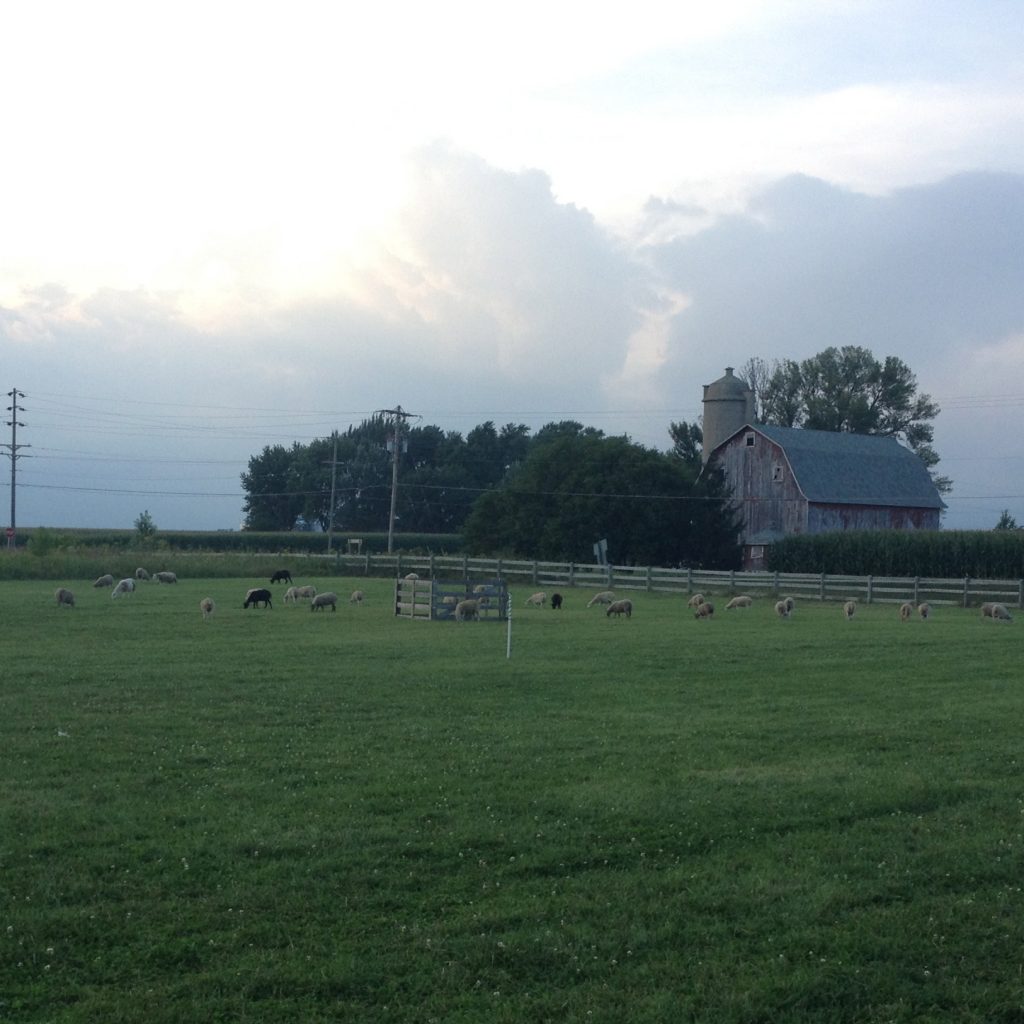 You can also join the Facebook group for the trial by clicking here.
To cater to the Novice handler, we limit the entries for this trial. Our goal is to provide a fun, positive trial experience for handlers just starting out, those that would like to move up to a new class and handlers that are looking to strengthen their working partnership with their dog. While it is still a competition, we foster a friendly environment so you can have a fun trial experience and receive supportive feedback.
We currently do not have any lesson dates scheduled.
History of Trial
Since 2009, my husband and I have hosted clinicians for duck herding lessons and clinics and sheep herding lessons and clinics.  In 2012, we stepped it up a notch and put on our first sheep herding trial. Even with the blistering heat of July, we had a blast.  So we did it again in 2013. This USBCHA style herding trial is open to any dog and handler team that wants to give the course a try. We offer a Novice & Ranch course with approx. 200 yard outrun. The rest of the course consists of various tasks that a Ranch or Farmdog would need to complete. The Ranch class includes a short drive away. WWSDA Members get trial points for the compete classes.
A special thanks to Kathy Kawalec and Nancy Flynn who have been amazing help and inspiration putting together the first two trials. They have helped put up fencing, pens, panels, shade tents, set out pens and then set the stock and judged the runs.  Thank you!
Past Winners
2016 (Steve Kunkel, Judge)
Novice 1 – Lisa Pruka & Chandler
Novice 2 – Kelly Beres & Brim
Novice High Combined: Kelly Beres & Brim
Best Stockmanship Novice: Dorothy Schmidt & Thyme
Ranch 1 – Kristin Bryant & Bea
Ranch 2 – Jody Anderson & Whisper
Ranch High Combined: Jody Anderson & Whisper
Best Stockmanship Ranch: Lynn Crowell & Krea
2015
Novice – Lynn Crowell & Krea
Ranch – Meredith Biehl & Suka
2014
Novice – Lisa Williams & Ali
Ranch – Mary Dickey & Nell
2013
Novice – Janis Reuter & Bryn
Ranch  – Catherine Price & Morgan
2012
Novice  – Adrian Espinosa & Drake
Ranch – Cheryl Leatherman & Ricky